-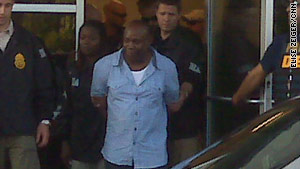 Alleged drug kingpin Christopher "Dudus" Coke was extradited Thursday from Jamaica to the United States, where he is to face drug and weapons charges.

His extradition occurred two days after he was taken into custody in Jamaica and several hours after he had waived his right to an extradition hearing in Jamaica. Coke arrived at about 7 p.m. at White Plains-Westchester County Airport outside New York City.

As a phalanx of armed Drug Enforcement Administration agents and U.S. marshals paraded him in front of about a dozen reporters to a silver SUV outside the terminal, Coke -- dressed in a blue open-necked shirt and black pants, his hands cuffed behind his back -- appeared subdued, a smirk on his face.

Source:


http://www.cnn.com/2010/CRIME/06/24/jamaica.coke.extradition/index.html?hpt=T1




Jamaica 'Drug Kingpin' Extradited To US

Coke had been wanted on drug and gun-trafficking charges - and at least 73 people died during four days of violence when police and soldiers stormed the Tivoli Garden slum in Kingston in an attempt to capture him in May.

The 42-year-old was apprehended earlier this week on the outskirts of the capital disguised in a curly-haired wig, apparently on his way to hand himself in to the US Embassy.

After a brief court appearance amid tight security in which he waived his right to trial in Jamaica, Coke was put on a flight to New York, where he was indicted last year.

If convicted, he faces life in prison and millions of dollars in fines.
Source:

http://news.sky.com/skynews/Home/World-News/Christopher-Dudus-Coke-Extradited-To-US---Alleged-Drug-Lord-Arrives-In-New-York-To-Face-Trial/Article/201006415654648?lpos=World_News_Carousel_Region_1&lid=ARTICLE_15654648_Christopher_Dudus_Coke_Extradited_To_US_-_Alleged_Drug_Lord_Arrives_In_New_York_To_Face_Trial