-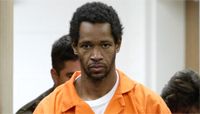 John Muhammad, 48, the "DC Sniper" who terrorized the capital seven years ago with a Beltway shooting spree that claimed 10 lives, is set to be executed by lethal injection in Virginia on Tuesday.
His ex-wife, Mildred, who released a memoir titled "Scared Silent" last month about her decade-long marriage to the killer, will not be there to witness his death. Nor will their three children.
"I have since remarried," Mildred, 49, told The Post. "And so whatever feelings that I have for John deal directly with the children we share. I have a level of respect for him still because he is the father of my children. But I don't have any emotional attachment to him any more."