http://www.eonline.com/uberblog/b99069_police_looking_chris_brown_after.html
-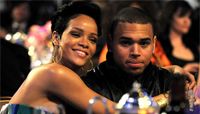 Grammy day was supposed to be a glittery affair for R&B's reigning It couple, Chris Brown and Rihanna. But things went horribly amiss.

About the time Brown was scheduled to be singing "Forever" onstage at Los Angeles' Staples Center, he was instead detained by police, being questioned for allegedly roughing up Rihanna.

Brown, 19, turned himself in at the LAPD's Wilshire station around 6:30 p.m. and was booked on suspicion of making criminal threats, a charge that carries a maximum penalty of four years.

Read More
...